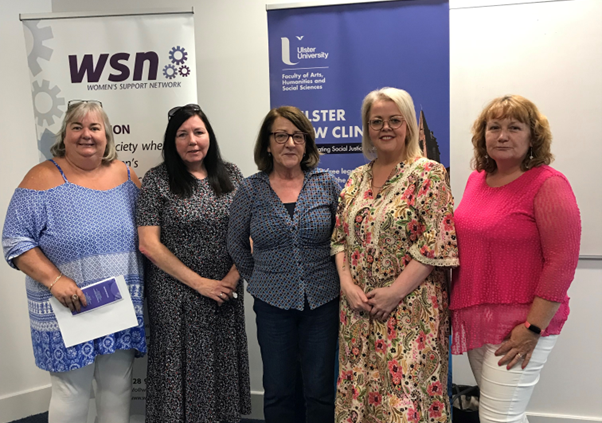 The Consortium's latest research paper with the Ulster University Law Clinic was launched in Ulster University on 20th June.  The launch included a summary of the main points in the research as well as a number of personal insights from the women who took part in the research.  They spoke really powerfully about the impact of the Cost of Living Crisis on their lives and how it affected them, their children and families.
We wish to sincerely thank all the women who took part in the focus groups for the research and especially those who spoke about their personal experiences of the Crisis at the launch, all the Women's Centres and Consortium partners who helped organise the focus group sessions, spoke at/supported the research launch and our friends in Ulster University who helped to write the report, provided the room/catering for the launch, funded the leaflet and have been so supportive with this research paper.
Following the findings of the research five key priority areas were identified for action and these were:
Key Priority 1 – Women's Centres provide trusted, local spaces for women to access help and support to address financial vulnerability and poverty in ways that work best for them. We recommend that Government should provide a long-term sustainable funding model which recognises the significant return on investment that Women's Centres provide.  This would enable them to continue and develop the vital services they provide.
Key Priority 2 – The Holiday Hunger Scheme needs to be urgently reinstated to mitigate against food insecurity for women and children during the upcoming summer holiday period. The Healthy Start Scheme needs to be increased in line with inflation and those who are entitled should be automatically enrolled onto the scheme.
Key Priority 3 – The Cost-of-Living Crisis has compounded the existing crisis in mental health, as women lose opportunities for social connection and peer support due to a lack of money. There is an urgent need to invest in services to prevent long term mental illness and loss of life.
Key Priority 4 – The School Uniform Grant needs to be increased to reflect the average cost of a school uniform (including PE kit) which would move it closer in line with other countries in the UK. The grant should also include an allowance for school shoes.
Key Priority 5 – We support the recommendations from the Independent Review of Discretionary Support and want to see increased investment in this vital fund to address rising levels of financial hardship and the impact of the Cost-of-Living Crisis.
There was extensive media coverage at the launch with pieces on On Your Behalf, BBC Good Morning Ulster, U105 Frank Mitchell Show, BBC Newsline, UTV News, NVTV, Byline Times and features in Belfast Live, the Belfast Telegraph and the Irish News.
Link to NVTV piece filmed at the event
Link to the clip from BBC Newsline which features Nuala and Christiana (lived experience speakers):
Link to the Irish News article
Link to the Byline Times article
Siobhán has held a number of meetings to discuss the research, findings and recommendations since the launch of the research paper and will continue to lobby for all the recommendations included in the research over the coming months:
Meeting with Save the Children Northern Ireland
Meeting with Mental Health Foundation Northern Ireland
Meeting with Andy Allen MLA, Ulster Unionist Party (with Dr Ciara Fitzpatrick, Ulster University)
You can read the full copy of the research paper on the Consortium's website here
You can also read a summary leaflet about the research and the Key Priority Areas here
Also included on the Consortium's website is a document containing quotes from the women who took part in the focus groups for the research organised by subject area which you can read here
https://www.womensregionalconsortiumni.org.uk/wp-content/uploads/2023/08/WRCresearchLaunchpic.png
802
602
Women's Regional Consortium
https://womensregionalconsortiumni.org.uk/wp-content/uploads/2021/03/WRC_Logo.png
Women's Regional Consortium
2023-08-03 09:45:02
2023-08-03 09:49:52
RESEARCH LAUNCHED – The Impact of the Cost of Living Crisis on Women in Northern Ireland