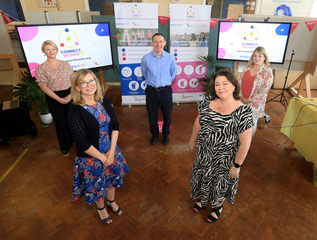 Proudly supported by The National Lottery Community fund, WOMEN'STEC, Glow NI, and Shankill Women's Centre launch new initiative to support unemployed women in North and West Belfast to access training, education, and personal development.
Connect4Women is a collaborative project between WOMEN'STEC, Glow NI, and Shankill Women's Centre. Together, we take a whole-person approach to helping unemployed women in North and West Belfast to learn new skills, access further education, and build their confidence and self-esteem.
We work with women to explore their needs and develop an individual pathway that will allow them to access a unique blend of personal development, education, and training that will improve their life opportunities and overall wellbeing.
Each organisation offers a unique range of programmes including:
WOMEN'STEC: Practical and trade skills (carpentry, plumbing, mosaics etc.)
Glow NI: Personal development, confidence building, and wellbeing
Shankill Women's Centre: Further education such as GCSE Maths and English, and more.
Lynn Carvill, CEO of WOMEN'STEC said: "We are delighted to be launching this incredible initiative which will see women from North and West Belfast accessing a range of skills and tools that will help them to improve their lives. Over the next five years, this collaboration hopes to reach over 300 women and provide them with real life opportunities as well as improving their physical and mental wellbeing."
Sandra McNamee, Northern Ireland Committee member of The National Lottery Community Fund, said: "At The National Lottery Community Fund, we know that people and communities thrive when they have their say in the decisions that affect their lives. The Connect4Women project, made possible thanks to money raised by National Lottery players, puts the students at the centre of its work.
I'd like to congratulate WOMEN'STEC, Shankill Women's Centre and Glow NI on coming together to deliver 'Connect4Women', a project that is going make real, positive changes to many women's lives."
Chara Clarke from Glow NI said: "There is massive benefit for all involved when organisations collaborate. This project of three fantastic women's organisations coming together for the benefit of the women will have a lasting impact, not only on the women individually but also their families and community. We are excited to see the journey these women take and the opportunities that arise as they are supported by three like-minded women's groups."
Joan Mercer from Shankill Women's Centre said: "We are pleased and excited to be a partner in this fantastic project.  Working together will ensure the women involved get a full experience of all the skills on offer and will guarantee maximum support, encouragement, and peer sharing."
We would like to thank The National Lottery Community Fund and The National Lottery players for helping us to bring Connect4Women to life.
For further information on Connect4Women visit www.connect4women.org or contact us on info@womenstec.org or 02890 749810.
https://www.womensregionalconsortiumni.org.uk/wp-content/uploads/2021/06/connect4women.jpg
240
317
Women's Regional Consortium
https://womensregionalconsortiumni.org.uk/wp-content/uploads/2021/03/WRC_Logo.png
Women's Regional Consortium
2021-06-24 12:17:06
2021-06-24 12:19:50
Connect4Women Project Launched by WOMEN'STEC, Glow NI, and Shankill Women's Centre